Wow! If this can be saved . . .
anything can!
It took me a while to get from the first photo to the second photo.
First of all, after opening the photo in Photoshop CS2, I made a levels adjustment moving the center slider quite far to the left. Also, the right slider over to the left just a hair also. It was amazing what that one adjustment opened up in the photo as far as color. It was amazing to see what was hidden underneath!
Next I ran Coffeeshops Free Perfect Portrait, I used the Vivid Color layer to give a little extra boost to her eye and lip color, brightened it a little, increased the eye definition and a little vinyette. I tweaked all the layers opacity just a bit to get the look I wanted, then flattened.
Next I ran another free action DNP Noise Reducer, and included all three layers, green, blue and red for noise reduction. In fact, I ran it twice.
I love free actions and next used MCP's High Definition Sharpening Action to crisp things up a bit. I used the mask and black brushed everything but the eyes to make the eyes stand out more.
Almost to the end: I cropped in closer, didn't want to try to recreate the missing left corner, so found a great crop that approximates the thirds rule.
My goal I'm currently working on is to try to figure out how textures work and use them to add some dimension to photos occasionally. So I thought I'd give it a try here. I'm not very good at keeping track of where I get free textures, so I can't tell you which ones I used. (I'm going to figure out a system for this). But there are lots of free textures out there! Here is a great place to start. I applied two different textures, erasing the first completely from the subject, and on the second kept the opacity at about 75% removal of texture.


Drumroll please . . . ta da da da!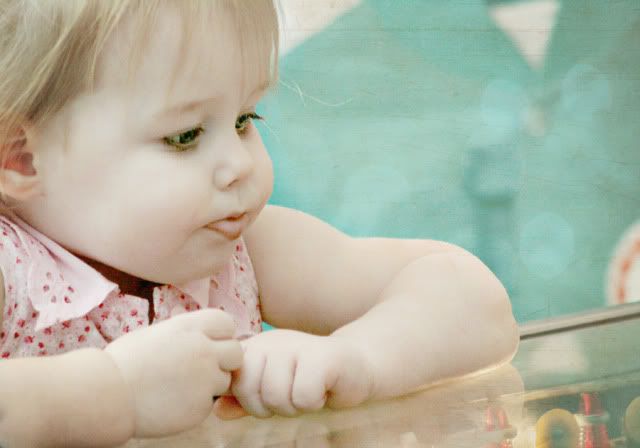 Kristin
~picasa~
~photobucket~
~flickr~
Sony a300, Sony a700
just using kit lenses right now: DT18-70mm/f3.5-5.6, DT55-200mm/f4-5.6 & loving it!
(But really want a 50mm/f1.7 !! - ha! Got it!
New puppy - Tokina 28-70 f2.8 dreamy)
Home Blog
,
Photo Blog